Games that put the 'app' in appealing and the 'you' in fun 
Indoor and Outdoor Team Building Events and fun activities for social occasions, on smartphone and tablet.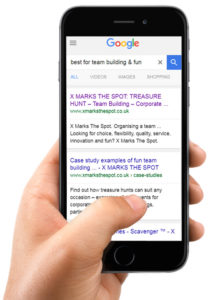 Take teamwork, friendly rivalry and fun to new heights on one of our innovative and flexible team events.
You decide the location that best suits you and your other plans
Anywhere worldwide
Single location, or across locations and even time zones
Any venue – e.g. city or town centre, office, hotel or grounds, conference centre, park, historic property, gardens, shopping centre, amusement park, museum etc.
Outdoor and Indoor challenges
You decide what's best for your group
Consider what you want to achieve, your colleagues' capabilities, your preferences for competition or collaboration and the extent to which you want to be involved in specifying the game and/or running it on the day.
Options include…
Challenges and game content pitched to suit the group based on your preferences and 20+ years experience of what we know works well. 
Choose the team size that enables the highest level of participant engagement, best team dynamics and optimum return on investment.
Our app supports any number of devices per team and a mix of device types and models. As a result, you'll never be forced, for example, to crowd round a single device due to technical limitations. On the contrary, expect top-notch teamwork and multi-tasking thanks to multiple devices.
Use your own phones or tablets if you prefer – and as many as you want at no extra charge.
Live in-game scoreboard for the über competitive, turned off for some or all of the game if required.
In-game opponent tracking and truly interactive challenges where you can react to your opponent's moves.
Curve ball challenges pushed to teams in-game depending on progress – mix it up and test change management skills.
In-app team messaging to aid control and communication.
Ready-to-run and Tailor-made games.
Flexible event management – choose from Self-run, Remotely supported and Fully-facilitated options.
Choice of theme, format and duration.
…all delivered through our intuitive, feature-rich, best-in-class app.
Team Building and Fun? Game on!
See how Scavenger™ works or dive right in and follow the link to go straight to our Games and Prices.
Book one of our off-the-shelf games or get a quote for a tailor-made game.
Once booked, all the participants need to do is turn up and enjoy!