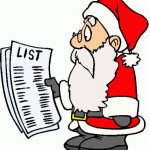 Dear Santa is a fun versatile Christmas Treasure Hunt with a hi-tech twist.
It's the ideal outdoor activity before the works Christmas lunch or office Christmas party – with an option to run it indoors if you're concerned about the weather or want to combine it with an evening function.
Santa has received a Christmas list that's a bit of a challenge. Can his little helpers find the virtual items he needs and put them in his virtual sack?
Sounds simple, but beware! The helpers are competing in teams and there's not much festive spirit around!
In this reindeer-eat-reindeer world one team could add something to the sack only for another team to replace it with something better. Nothing is 'stable' in this Christmas story.
The Dear Santa Christmas treasure hunt is fast, furious, festive and fun – with teams generating a bunch of hilarious photos and videos that can be shared at the results 'wrap-up' – well, what else would we call it at Christmas?
Will you end up being the Wise Men or will you be one of the turkeys?
Available indoors or outdoors in any location.
Prices
| | | | |
| --- | --- | --- | --- |
| | 1 hour | 90 mins | 2 hours |
| 2 teams | £399 | £599 | £799 |
| 3 teams | £549 | £749 | £949 |
| 4 teams | £699 | £899 | £1099 |
| 5+ teams | enquire | enquire | enquire |
Prices are subject to VAT.
Maximum 5 people per team.
You provide the smartphones.
Remotely facilitated by X Marks The Spot.
Allow 15 minutes for set-up prior to the game using 3G, 4G or wi-fi.
When time is up, retire to trade stories over a few drinks and access our secure website to find out the results.
Game is subject to availability at time of booking.
Sounds good?
BOOK NOW
Needs a tweak or two?
For example…
Prefer X Marks The Spot to turn up and take care of everything? Find out about our fully facilitated service.
Keep things a secret and set the game up to lead participants to your Christmas party venue?
Need to hire phones?
Want to choose your own team names?
Brand the game in the app with a company logo and an event name of your choice.
Fancy the novelty and impact of the CEO or someone you know delivering missions via video?
Include a collaborative element in the format?
Prefer cycling or taking a black cab instead of walking?
How about a fun slideshow of team photos when teams return?
Need help organising the start and end venues?
Whatever your needs, we can help.
Contact us about customisation
Not quite what you were looking for?
Show me more games or find out how to help the NSPCC with a letter from Santa.